Rishikesh is Perfect Weekend getaway for Adventure Lovers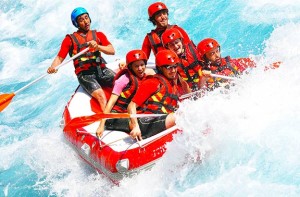 If you are planning your holidays to bestow you with some unforgettable and adventurous experience, Rishikesh is the best choice for you, as it is getting popularity as an audacious city. People from all over the world visit it every year to take pleasure in various adventurous bustles like river rafting, bungee jumping, rock climbing, night camping, bonfire and many more.
Its a perfect weekend spot for people in Delhi. Rishikesh is a must on every traveller's list. Anyone who love adventure sports and nature should plan a 2-3 days trip to this place.
Rishikesh Yoga Hub (World Capital Of Yoga) 
Rishikesh is famous for many things but the first individuality of this city is as 'The yoga capital of  the world'. People from different countries come here to learn yoga and meditation. You may attend the classes of Ashtanga yoga, Hatha yoga, Naad yoga, kundalini yoga and various methods of meditation which are taught by the expert yogis at their centers and Ashrams. Prmartha Niketan, Sivnand Ashram, Kailash Ashram and Jairam Ashram are some world famous Ashrams that have been teaching the traditional and modern form of yoga for years. Every Year Parmarth Niketan Ashram Rishikesh Organize International Yoga Festival. In 2019 International Yoga Festival will be held from the 1st of March and will continue till the 7th of March, hosted at various venues across Rishikesh India.
Rishikesh Attracts Nature Lovers 
As Rishikesh is the gateway to the Himalaya, you may explore here some natural panoramic sites such as the dense forest of Rajaji National Park, tiny hills around the Neelkanth temple, the pious river Ganges and its sub-rivers, waterfalls at Fool chatti and so on.
Foodie never disappointed in Rishikesh city
As Rishikesh is visited by people from different countries and states of India, so verity in food and cuisine is plainly seen here. There are numerous restaurants, fast food outlets, coffee shops and hotels in the city where you can enjoy appetizing Indian, Chinese and other sorts of world-famous vegetarian foodstuff with your friends and family.
Triveni Ghat in Rishikesh 
Triveni ghat is most famous destination in Rishikesh. This ghat is located near the main market. You are advised to explore the Aastha path at Triveni Ghat where you may go for a morning and evening walk while admiring the spectacular view of the Ganges with its gentle breeze. Ganga Aarati in the evening at this ghat makes the environment quite spiritual and ideal for meditation.
How to Reach Rishikesh 
Rishikesh is about 20 kilometers from Haridwar and 43 kilometers from Dehradun (the capital of the state Uttrakhand). The airport is about 15 kilometers from this city while the railway station and the Bus stand are positioned in the main city. You may reach this holy city by air, bus or train.
Best time to reach Rishikesh
Rishikesh is located in the foothills of the Himalaya and is blessed with an ideal climate. You may travel this place in all seasons yet January to June and September to December are the best months to visit.
Feel free to drop us a mail for River Rafting in Rishikesh, Bunjee jumping, Rock Climbing, Religious Tour, Night Camping, Yoga in Rishikesh, and so on.. Click Here