Haridwar to Chila Wildlife Retreat, so near to the holy city of Haridwar
The exploration from Haridwar to Chila wildlife sanctuary is one of the most breathtaking and hair-raising safari of the region.
Chilla Wildlife Sanctuary Haridwar
Rajaji national park, spread on foothills of Himalaya on the shivalik range, is one of the Places, you must visit while in Haridwar.
 The park has been created in 1983 by an amalgamation of three sanctuaries- Rajaji sanctuary (est.1948) Motichur sanctuary (estd.1964) and Chilla sanctuary (estd.1977) after the name of renowned statesman and freedom fighter Sri C. Rajgopalachariya – The first and last Governor General of independent India popularly known as "Rajaji".
A delight for wildlife lovers, adventure seekers and travelers, Rajaji national park, is spread over an area of 820.42 SQ. K.M. It is a home of 23 species of mammals and 315 species of Birds, which could count to 500 with several migrating species.
 Haridwar Rajaji National Park Entry:-
The splendid beauty of the park is inviting, through several entry gates, out of which, Motichur gate, Haridwar (9km from railway Haridwar station) and Chila gate, Rishikesh (8km by road)  are closest to Haridwar and jolly grant airport (30km). You can reach the gates and easily get all the necessary work done to enter the beauty of wildlife.
Haridwar Wildlife Safari in Rajaji National Park:-
A 34km Wildlife Jeep Safaris pass through forest track, hilly terrain, lush green valleys, river beds, dense forest accompanied by the Wishful Possibility of coming across a wide variety of animals.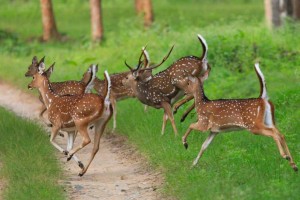 Flaura and fauna:-
Rajaji national park is the home of animals like Tiger, Leopard, Himalayan Bear, Cheetal, hog deer, barking deer, Sambar deer, wild boar, antelopes such as the Nilgai, Goral , Jackal, Hyena, Jungle Cat, Leopard Cat, Civets, Himalayan Yellow-Throated Marten, Sloth Bears, Pythons, King Cobra, Common Krait, Indian Cobra and the Monitor Lizard and above All the Asian Elephant.
And the birds like peafowl, woodpeckers, pheasants, kingfishers, and barbets, supplemented by a number of migratory species during the winter months.
 Accommodation at Rajaji National Park Chilla:-
GMVN (Garhwal Mandal Vikas Nigam) offers beautiful forest huts and Gujjar houses for tourists, who want to spend a little more time, close to the adventure and beauty.
The National Park remain open between 15th November and 15th June every year.
When to visit Rajaji National Park:
Timing to visit Rajaji National Park ..
| | | |
| --- | --- | --- |
| Dates | Duration of Visits | Last time of Visit |
| 15 Nov. to 31 Dec. | 6:30 Morning to 3:30 | 3:30 Evening |
| 1 Jan. to 31 Mar. | 6:30 Morning to 4:30 | 4:30 Evening |
| 1 April to 15 June | 6:00 Morning to 5:00 | 5:00 Evening |